Ireland's ancient food and drink.
As we have seen throughout the centuries, our diets are constantly changing as well has the way in which food is produced. With the ongoing development of new processes in which food is made and mass produced there has been a big change in ireland's diets over the last few centuries. Our eating habits have changed and not exactly for the better. 100 years ago the irish diet consisted of very simple meals with usually with lots of vegetables and potatoes along with some meat and bread, with the exception of a whiskey or two! Most families would have had a supply of the basic staples of life: milk, butter, eggs, meat, fruit and vegetables which will be used for breakfast, dinner and on occasion, lunch.
As well as these simple ingredients there was not many cooking utensils in the kitchen. No proper cooker, fridge and they might be lacking some certain pots/pans that we take for granted today. Along with this, irish families were quite large 100/200 years ago so feeding 10 or more people is going to be a challenge regardless of the other implications!
Nowadays we have a lot more temptation in the way of food. Mighty McDonald burgers, Fast Food wonders, An Array of mixed food culture dishes and cheeky sweet treat shops popping up everywhere we look. Such a difference from the way that Ireland use to eat and drink. Now the range of restaurants, bars and cafe throughout the country is beyond belief. Looking back 50 or more years ago, going out for a meal was considered a treat and was very rare, but now it may be done a few times a weeks within families for couples.
We have seen a drop in the traditional irish cuisine being cooked in restaurants in the past few years but it is starting to catch on again. Restaurants in Dublin and Ireland, just like the Riddler, have realised that creating new ways in which to serve traditional Irish dishes is exactly what customers and tourists love to see. Tradition is a big part of what brings tourists to visit destinations and why they fall in love with the areas culture and history. Artisan chefs and restaurants are now bringing back traditional dishes and giving them a modern irish twist which is a great way to foster the countries authenticity.
Recipes such as irish stew, a good irish roast, steak and Guinness pie and the full irish breakfast are all being changed and updated for the the modern food palette that exists today. With the abundance of fresh food like meat, fish, vegetables, milk, cheese and herbs Ireland makes a prime country for food production and fresh ingredients.
New irish food and dishes have been popping up in trendy hipster little ally cafes and restaurants all around ireland. Tradition is alive and well throughout the island, and in a world where food trends are becoming homogenous, it's good to know that you can kick back and taste Ireland's authenticity without any effort at all. Check out more on this topic Here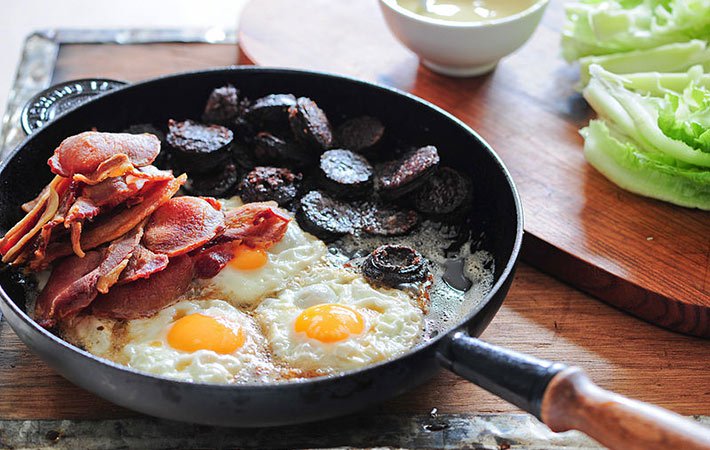 Our Irish Dishes:
We here at the Riddler pride ourselves on serving some of the best and most delicious modern Irish dishes in Dublin. It's important to us that we always serve authentic irish food to keep our wonderful traditions alive and well. The Riddler is not just about Irish food, but about reconnecting with our roots.
For breakfast we serve a range of dishes. Some of the most popular on our breakfast menu are, The full irish breakfast which has gorgeously cooked egg, pork sausages, streaky rashers, black and white pudding, confit mushrooms, sauteed potatoes, tomatoes and homemade whiskey bread. We also serve 'the irish egg' which consists of toast, asparagus wrapped in streaky bacon, rich bacon jam and fried hens eggs. We also have a traditional irish porridge, with a twist which is covered with homemade jam, honey and nuts.
For our irresistible lunch we have some beautiful dishes like the Riddler's Stew which is a rich slow-cooked braised beef, barley, root vegetables, in a deep sauce served with our homemade whiskey bread. Our chowder is a creamy indulgent mix of smoked fish, fresh fish and homemade whiskey bread for dipping. The Fish and chips is the best around, oat crumbed cod, hand cut chips and a glorious pea puree.
Dinner in the riddler is a must. Perfect for a date or a family meal all together. For starters we have a delicate Irish Organic Cured Salmon Served with fresh cucumber and a fresh Lemon and Lime dressing. For your main course we have a 8-hour slow cooked Pork Belly with delectable Clonakilty black pudding and a potato croquette served with sweet apple puree. We can't forget dessert of course! We serve a traditional irish Apple & Rhubarb crumble cake which is served warm with a divine homemade custard. If you're looking for some cheese after dinner we have that too. Our selection of local cheeses, tangy apple chutney and crispy crackers is to die for. Washed down with our beer or wine selection, you'll really get a taste of modern ireland. Come join us, we'd be happy to see you in the Riddler. Our full menu is up above on the ridder restaurants website.